Welcome to the ultimate Da Nang Travel Guide, where fun and relaxation come together to offer an incredible experience! Get ready for a journey filled with endless wonders as we uncover the hidden gems of this captivating coastal city.
With its beautiful beaches, impressive mountains, and a mix of ancient traditions and modern attractions, Da Nang invites you to discover its enchanting beauty. So, fellow explorers, get ready as we dive into the heart of Da Nang and find out why it's considered the best city to live in Vietnam!
1. Where is Da Nang?
Nestled along the central coast of Vietnam, Da Nang is a mesmerizing city that effortlessly blends natural beauty, rich history, and modern developments.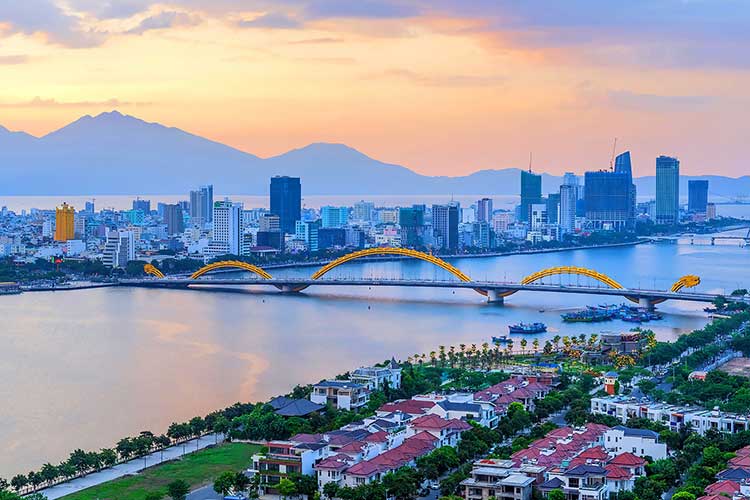 Where is Da Nang?
It serves as the gateway to the stunning UNESCO World Heritage Sites of Hoi An and My Son. Da Nang boasts a strategic location between the capital city of Hanoi in the north and the vibrant metropolis of Ho Chi Minh City in the south.
As you explore Da Nang, you'll find a perfect balance between urban development and natural beauty. The city's modern skyline has sleek skyscrapers, luxury resorts, and bustling shopping centers. Meanwhile, the surrounding countryside features lush rice paddies, charming fishing villages, and verdant mountains, showcasing the region's rich agricultural heritage.

2. Weather in Da Nang - What is the best time to visit?
Da Nang is located in the South Central Coast region of Vietnam, serving as a transitional zone between the northern and southern regions. The city experiences two distinct seasons: the dry season (from January to July) and the rainy season (from August to December). The temperature in Da Nang is generally high but pleasant, without extreme heat, making it favorable for tourism.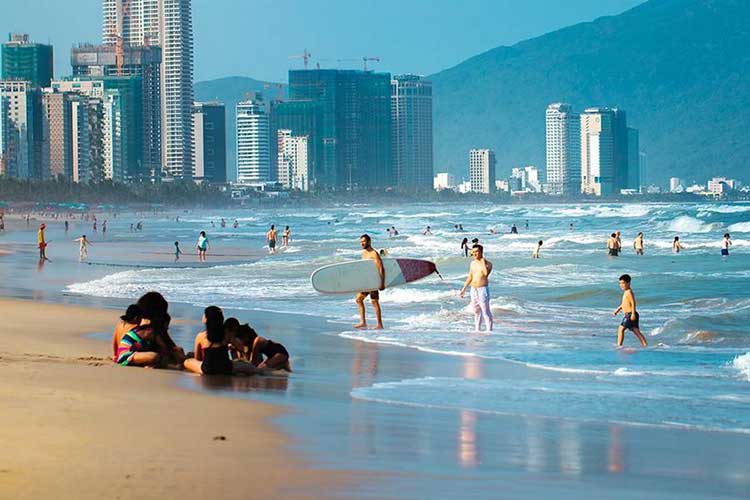 The city experiences two distinct seasons: the dry season and the rainy season
Similar to other coastal cities, the peak tourist season in Da Nang falls during the summer months (from June to August). This period offers chill and sunny weather with minimal rainfall, making it perfect for beach activities, exploring mountains and forests, and engaging in outdoor adventures.
However, according to our Da Nang travel guide's advice, you can visit Da Nang almost all year round because the city is not prone to major storms. Visiting Da Nang between February and April or during the late months of the year will help you avoid crowds and save costs.
Additionally, if you have the opportunity, consider visiting Da Nang during the International Fireworks Festival, which takes place from late April to the end of June. This festival features exciting events such as culinary festivals, parades, and vibrant cultural and artistic performances.

3. How to get to Da Nang?
Multiple transportation options are available to reach Da Nang, making it easily accessible for travelers from various locations. Here are the different ways to get to Da Nang:
3.1. By plane
Da Nang has its international airport, Da Nang International Airport (DAD), which is well-connected to major cities in Vietnam and international destinations. Many airlines operate direct flights to Da Nang, providing convenience and efficiency for travelers.
The flight duration from Ho Chi Minh City or Hanoi to Da Nang is typically around 1 hour. Due to our Da Nang travel guide, one tip is that you can easily reach the city center by taxi or pre-arranged transportation upon arrival at the airport.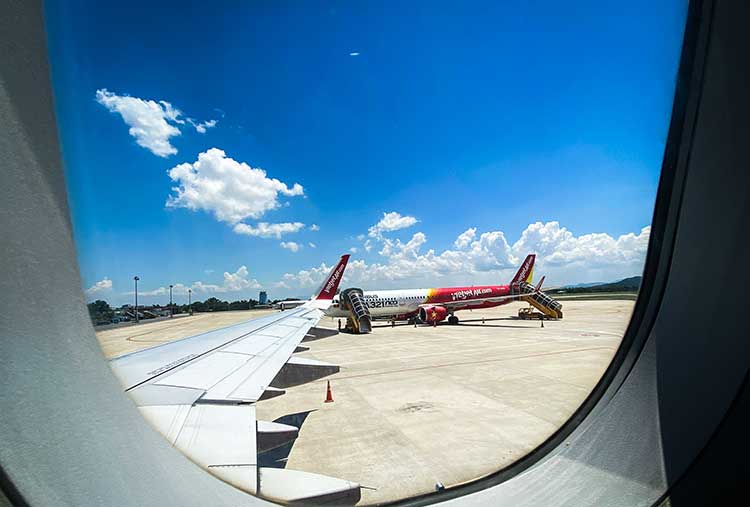 Get to Da Nang by lane

3.2. By train
Da Nang is also accessible by train, offering a scenic and leisurely journey. Vietnam's North-South Railway passes through Da Nang, connecting it to major cities like Hanoi and Ho Chi Minh City. The train system provides a comfortable and affordable option for those who prefer a slower pace of travel. It takes approximately 15 to 18 hours to reach Da Nang.

3.3. By Bus
Buses are a popular means of transportation in Vietnam, and Da Nang is well-connected to neighboring cities and provinces through an extensive bus network. Bus travel offers flexibility, with various options for different budgets and preferences. Several bus companies operate routes to and from Da Nang, providing convenient access for travelers exploring the region.
3.4. By Motorbike
For those seeking a more adventurous and flexible mode of transportation, renting a motorbike is a popular choice. Da Nang is located along the coastal highway, making it accessible by road from nearby cities and regions. Renting a motorbike allows you to explore at your own pace and discover scenic routes and hidden gems along the way.

4. What to do in Da Nang?
Da Nang offers many exciting activities and attractions for every type of traveler. Here are some must-see highlights according to our Da Nang travel guide:

4.1. Marvel at the Iconic Dragon Bridge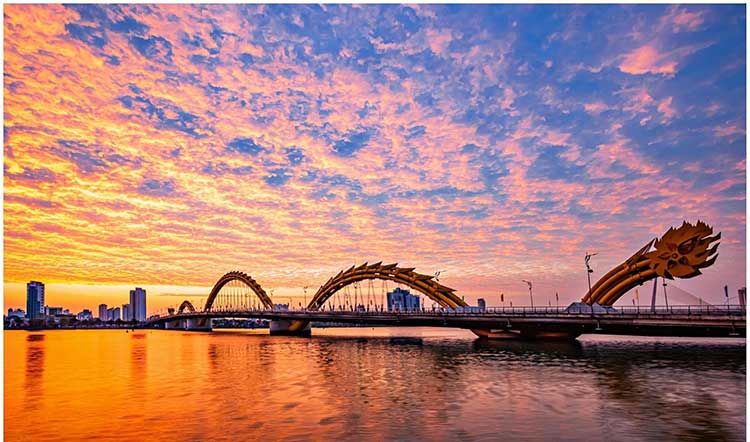 Marvel at the Iconic Dragon Bridge
One of the must-see attractions in Da Nang is the iconic Dragon Bridge, a true marvel that never fails to captivate visitors. This impressive bridge spans across the Han River, connecting the city center to the eastern districts. What sets the Dragon Bridge apart is its unique design featuring a giant dragon winding its way across the river.
The Dragon Bridge is an architectural masterpiece symbolizing power and good fortune in Vietnamese culture. The bridge comes alive at night with a vibrant display of colorful LED lights illuminating its entire length, creating a magical spectacle.
On weekends and special occasions, the Dragon Bridge spouts jets of water and releases bursts of fire, creating an enchanting display of light and heat. This spectacle usually occurs at 9 p.m., attracting crowds of locals and tourists who gather to watch in awe.

4.2. Explore the Marble Mountains
Embark on an adventure to the Marble Mountains, a cluster of five limestone hills offering stunning panoramic views of the city and housing ancient Buddhist temples and caves.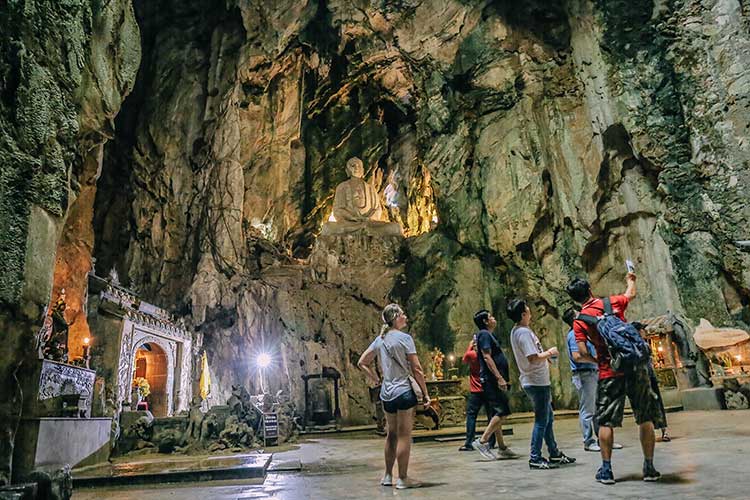 Explore the Marble Mountains
Each of the Marble Mountains is associated with one of the five elements—metal, wood, water, fire, and earth—and is named accordingly: Thuy Son (Water), Moc Son (Wood), Kim Son (Metal), Hoa Son (Fire), and Tho Son (Earth). Each mountain offers its distinct charm and attractions, making exploring all five a genuinely immersive experience.
Begin your journey by ascending Thuy Son, the largest and most visited of the Marble Mountains. Climb the stone steps, which are flanked by intricate stone-carved statues, to reach the summit. From there, you'll be rewarded with panoramic views of the surrounding countryside and the sparkling coastline of Da Nang.
Explore the numerous caves that dot Thuy Son, such as Huyen Khong Cave, known for its tranquil atmosphere and hidden Buddhist shrines. Venture deeper into the mountains to discover Tam Thai Pagoda, a serene temple adorned with intricate artwork and dedicated to worshiping the Buddha and Bodhisattvas.
As you traverse the Marble Mountains, be sure to visit the other peaks as well. Moc Son, for example, is home to the famous Non-Nuoc Stone Carving Village, where skilled artisans create exquisite sculptures from the marble extracted from the mountains. Kim Son offers stunning viewpoints and an opportunity to explore the Am Phu Cave, which depicts scenes from Buddhist hell.
Hoa Son and Tho Son also boast their own unique charms, such as ancient pagodas, hidden caves, and serene nature trails. Take your time to wander through these mountains, appreciating the tranquility and spiritual energy that permeates the air.
The Marble Mountains are easily accessible, and you can reach them by motorbike, taxi, or organized tours from Da Nang. One tip in our Da Nang travel guide is to wear comfortable shoes, as there will be some climbing involved, and carry a bottle of water to stay hydrated during your exploration.

4.3. Relax at My Khe Beach
Bask in the sun and take a dip in the crystal-clear waters of My Khe Beach, known for its pristine sandy shores and gentle waves. Enjoy water sports, beachside dining, or simply unwind with a refreshing drink in hand.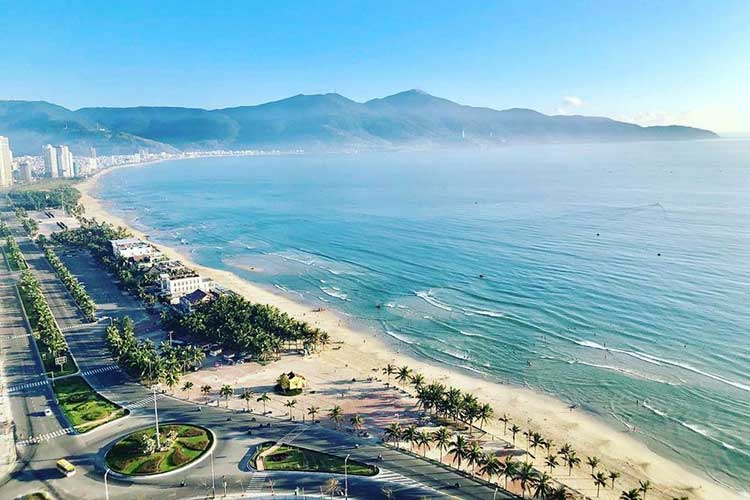 Relax at My Khe Beach
Located in Da Nang, this stunning stretch of golden sand stretches for approximately 30 kilometers, offering a tranquil retreat where you can relax, rejuvenate, and enjoy the beauty of nature.
My Khe Beach boasts soft, powdery sands that feel heavenly beneath your feet. The crystal-clear waters gently lap against the shore, inviting you to take a refreshing swim or simply bask in the coastal serenity. The beach is renowned for its calm waves, making it safe for swimmers of all levels, including families with children.
For those seeking some adventure, My Khe Beach offers a variety of water sports and activities to choose from. Try your hand at surfing, paddleboarding, or jet skiing, or embark on a thrilling banana boat ride. If you prefer a more relaxed pace, take a leisurely stroll along the shoreline, collecting seashells and enjoying the peaceful ambiance.

4.4. Visit the Ancient Hoi An
Take a day trip to the nearby UNESCO World Heritage Site of Hoi An, a charming ancient town filled with well-preserved historic architecture, vibrant lantern-lined streets, and a bustling riverside ambiance.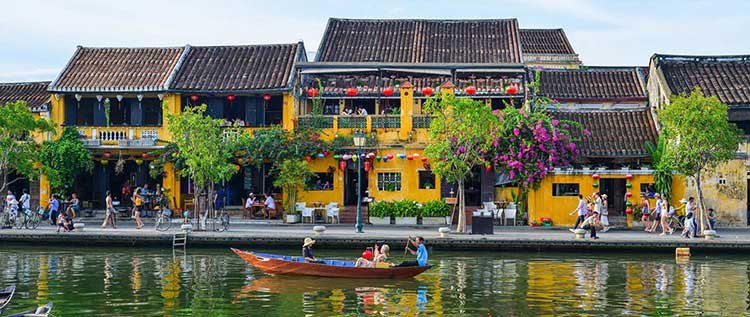 Visit the Ancient Hoi An
As you enter the town, you'll be enchanted by the charming atmosphere and the distinctive blend of Vietnamese, Chinese, and Japanese influences that have shaped its unique character. The narrow lanes are adorned with colorful buildings, traditional wooden houses, and ornate temples, creating a captivating ambiance that exudes old-world charm.
Hoi An is famous for its lantern festival, particularly during the full moon when the town becomes illuminated with thousands of lanterns, creating a magical and romantic atmosphere. Don't miss the chance to experience the enchanting beauty of the lantern-lit streets during this time.

4.5. Explore the Golden Bridge at Ba Na Hills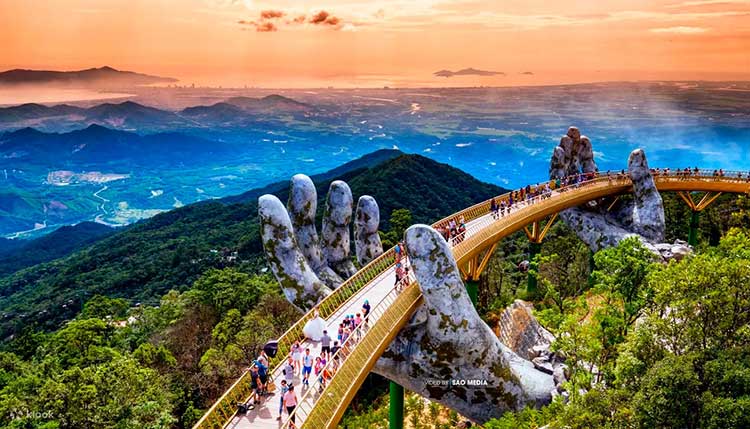 Explore the Golden Bridge at Ba Na Hills
The Golden Bridge is located in the Ba Na Hills resort complex, which is situated in the Truong Son Mountains, about 25 kilometers west of Da Nang City. The Golden Bridge is a striking architectural masterpiece that spans 150 meters in length. It is supported by two enormous stone hands that emerge from the mountainside, creating an illusion of the bridge being suspended in the air. The hands were designed to resemble the hands of gods, reaching out to cradle the bridge.
Brace yourself for a thrilling adventure as you step onto the awe-inspiring Golden Bridge, a masterpiece suspended high above the clouds, defying gravity and captivating all who see it. Picture yourself strolling along this architectural marvel, feeling like you're walking on air, with panoramic vistas unfolding before you like a dream.

4.6. Visit Hai Van Pass - one of the most beautiful passes in Vietnam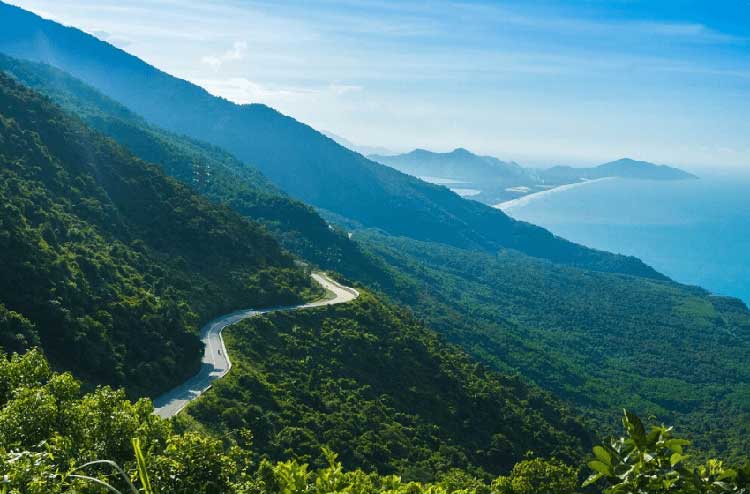 Visit Hai Van Pass - one of the most beautiful passes in Vietnam
Discover the awe-inspiring beauty of Hai Van Pass, one of Vietnam's most stunning mountain passes. This must-see destination in central Vietnam offers breathtaking scenery and rich cultural history.
Hai Van Pass is famous for its winding roads that take you through picturesque landscapes. As you drive or ride along the pass, you'll be treated to panoramic views of lush green mountains, cascading waterfalls, and stunning coastal vistas. The contrast between the deep blue sea and the rugged cliffs is simply breathtaking.
Aside from its natural beauty, Hai Van Pass holds historical significance. It was an important trade route between the ancient Champa Kingdom and Dai Viet, leaving remnants of ancient fortresses and military outposts.

4.7. Visit Linh Ung Pagoda - Lady Pagoda on Son Tra Peninsula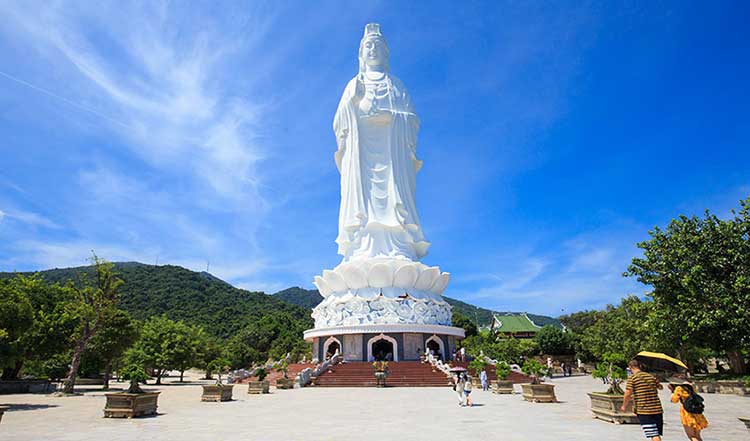 Visit Linh Ung Pagoda - Lady Pagoda on Son Tra Peninsula
Linh Ung Pagoda is renowned for its stunning architectural design and tranquil surroundings. As you approach the pagoda, you'll be greeted by an imposing entrance gate adorned with intricate carvings and colorful artwork. Step inside, and a sense of serenity washes over you as the peaceful atmosphere and gentle fragrance of incense fill the air.
At the heart of the pagoda stands a magnificent statue of the Bodhisattva of Compassion, Guan Yin. Towering at an impressive height, this statue radiates a sense of grace and compassion. Adorned with ornate decorations and meticulously crafted details, it serves as a symbol of peace and enlightenment.

4.8. Shopping at Han market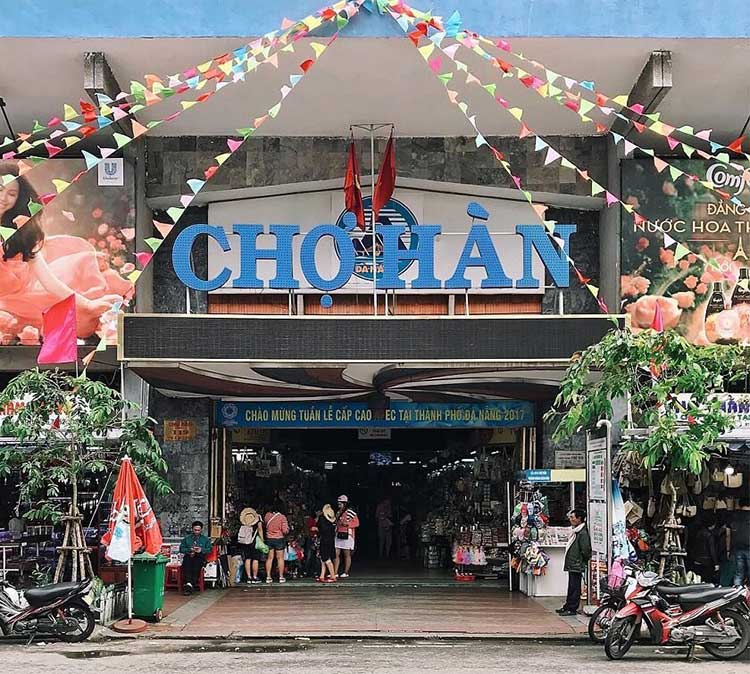 Shopping at Han market
Han market offers a kaleidoscope of sights, sounds, and flavors, where locals and tourists come together to explore a treasure trove of goods and immerse themselves in the vibrant atmosphere.
Han Market is a haven for shoppers, offering various products that cater to all tastes and preferences. You'll find diverse items to peruse and purchase from fresh fruits, vegetables, and aromatic spices to local handicrafts, clothing, shoes, and accessories. The market is particularly renowned for its silk products, where you can find beautiful scarves, dresses, and other silk garments at competitive prices.
4.9. Go Snorkeling in the Cham Islands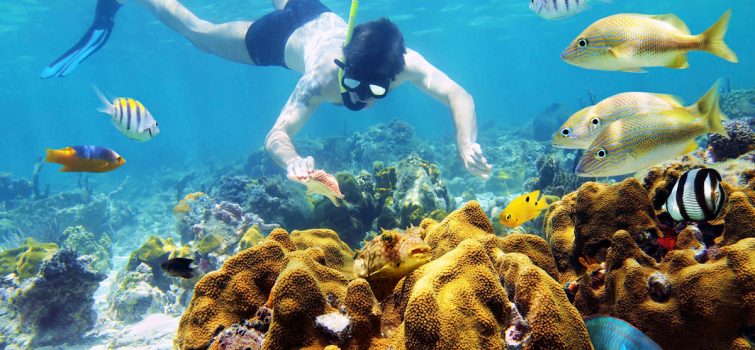 Go Snorkeling in the Cham Islands
Embark on an underwater adventure and explore the pristine marine world by snorkeling in the breathtaking Cham Islands, a group of tropical islands located off the coast of Hoi An in Vietnam. With crystal-clear waters, vibrant coral reefs, and abundant marine life, the Cham Islands offer a snorkeling experience that is nothing short of extraordinary.
The coral reefs surrounding the Cham Islands are teeming with marine biodiversity. You'll encounter a stunning variety of colorful fish darting among the corals, each showcasing their unique patterns and vibrant hues. Keep your eyes peeled for graceful sea turtles gliding by and playful schools of tropical fish weaving through the underwater landscape.

4.10. Learn more history of the Champa Kingdom at Cham Museum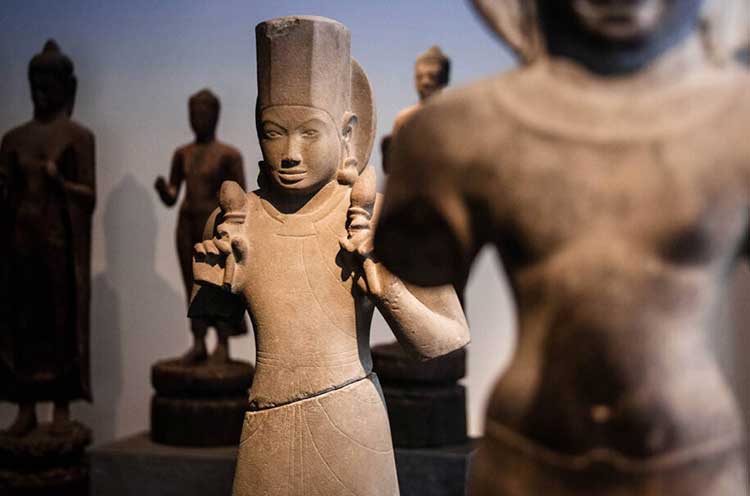 Learn more history of the Champa Kingdom at Cham Museum
Discover the intriguing history of the Champa Kingdom by visiting the Cham Museum in Da Nang, Vietnam. This renowned museum provides a fascinating insight into the rich cultural heritage of the Champa civilization, showcasing its unique art, architecture, and historical significance.
The Champa Kingdom thrived from the 4th to the 15th centuries in present-day central and southern Vietnam, and was a remarkable civilization known for its advanced society and maritime trade. The Cham Museum is a tribute to their legacy, housing an extensive collection of sculptures, artifacts, and archaeological treasures.

4.11. Discovery My Son Sanctuary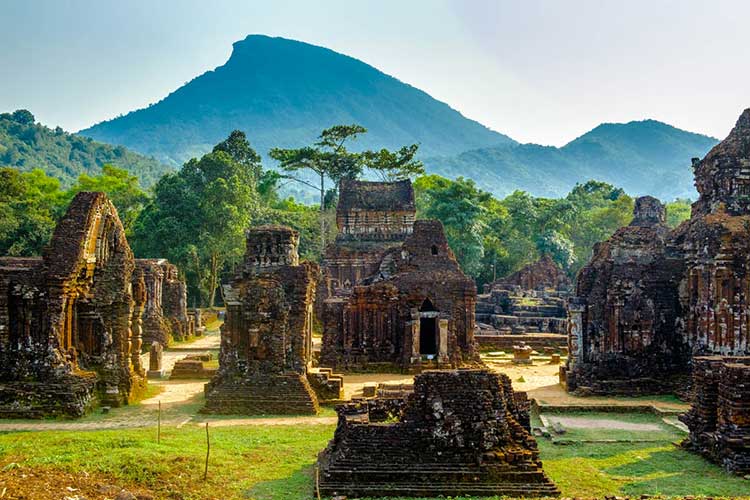 Discovery My Son Sanctuary
Explore the captivating wonders of My Son Sanctuary, an ancient archaeological site nestled amidst the lush landscapes of central Vietnam. This remarkable sanctuary holds deep historical and cultural significance, offering a glimpse into the glorious past of the Champa civilization.
Located near Hoi An, My Son Sanctuary was once the religious and political capital of the Champa Kingdom, which thrived from the 4th to the 13th centuries. This UNESCO World Heritage site stands as a testament to the remarkable architectural and artistic achievements of the Champa people.

4.12. Stop at Asia Park in Da Nang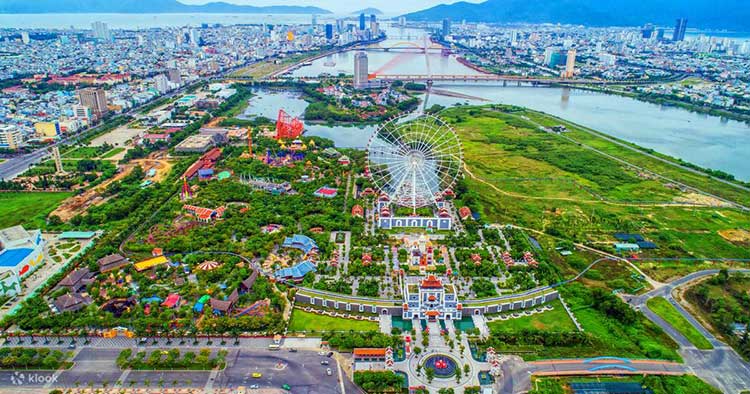 Stop at Asia Park in Da Nang
Located in the heart of Da Nang, Asia Park showcases the diverse cultures and iconic landmarks of Asia. The park is divided into different zones, each representing a different country or region, allowing visitors to embark on a journey through the continent's rich heritage.
You'll encounter impressive replicas of famous landmarks like the Taj Mahal, the Great Wall of China, and Angkor Wat. These meticulously crafted structures offer a unique opportunity to marvel at the architectural wonders without leaving Da Nang.
In addition to the cultural exhibits, Asia Park boasts a thrilling array of amusement rides and attractions. Strap yourself in and feel the adrenaline rush as you soar through the air on roller coasters or take a plunge on exhilarating water slides. The park caters to both adrenaline junkies and those seeking more relaxed experiences, with rides suitable for all levels of thrill-seekers.

5. Conclusion
In conclusion, this Da Nang travel guide has unveiled the wonders of this vibrant coastal city, showcasing its breathtaking beaches, majestic mountains, and harmonious blend of ancient traditions and modern attractions.
Whether you seek relaxation, adventure, cultural exploration, or simply a memorable getaway, Da Nang has it all. So pack your bags, follow this guide, and embark on a remarkable journey to discover the treasures of Da Nang, a destination that promises to leave you with cherished memories and a longing to return.